2018: The latest information on Blue Green Algae blooms: Harmful Algal Blooms Page with links to the NYS DEC.
Eurasian Milfoil and other Invasive Species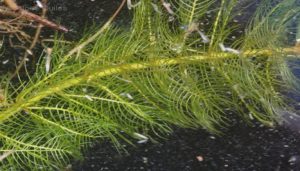 What is it, and how to identify it Sixth and Seventh Lakes Aquatic Plant Survey by the Adirondack Watershed Institute
The Sixth and Seventh Lakes Milfoil Project: In 2004 Eurasion Water Milfoil [e-milfoil ] was first identified by DEC marine biologists in the shallow west end bays of both 6th and 7th Lakes. E- milfoil is an invasive aquatic plant that roots in sandy, muddy lake bottoms up to 15-20 ft. depth. It grows to the lake surface by mid summer and spreads densely adversely affecting swimming, boating, and fishing. It depletes dissolved oxygen affecting fish vitality. Through hand harvesting by divers our Lake Association in cooperation with the Fulton Chain of Lakes Association has been able over the years to manage the e-milfoil so that only an occasional isolated plant will show at surface–unlike some Adk lakes where the e-milfoil has taken over the entire shoreline. Fortunately our annual lake draw downs to lake bottom in both bays helps to control the e-milfoil growth. The stoney bottoms and deeper water in the rest of our lakes shoreline discourages e-milfoil. Upper Seventh Lake [all State land ] in the bays at and near the 8th Lake carry have had large, dense beds of e-milfoil for many years. State matching grants over three years to hand harvest these beds found the task overwhelming due the density and maturity of those plants. Luckily, prevailing westerly winds move the surface floating milfoil fragments toward the carry. Also, the deep stoney bottoms in main 7th Lake control the further rooting of this e-milfoil. Our Lake Association Milfoil [and other invasive aquatic plants] Fund continues to be supported by our Association member donations. This money will be available as needed for expenses involved in managing these invasive plants in the future. It's important to keep this program funded.
Loon Protection and Habitat Care/Preservation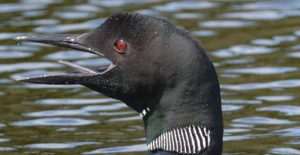 About our loons, their habits and habitat.
New York Natural Heritage Program
Adirondacks Center for Loon Conservation
Sharing Space with the Wild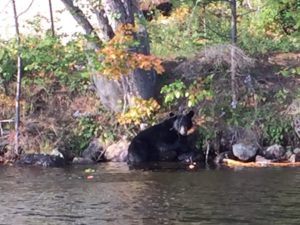 Some information on the wildlife we live with in the Adirondacks…